09 Mar

200-plus reach the Summit
ROOST wishes to extend a HUGE thanks to Adworkshop for lending their tremendous expertise to the Summit. Their contributions were critical to the success of this event!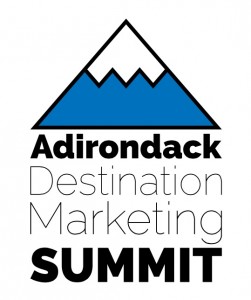 ---
Lake Placid, adirondacks, usa — More than 200 individuals representing a wide range of businesses and organizations from across the region attended the Regional Office of Sustainable Tourism's (ROOST's) inaugural Adirondack Destination Marketing Summit in Lake Placid on March 3, with additional attendees joining in just for the keynote lunch.
As the destination marketing organization responsible for promoting a large geographic of the Adirondacks, ROOST's aim for the Summit was to support the success of its marketing partners at all levels of marketing savvy by providing marketing insight from top-notch speakers on a range of current digital marketing topics. 
"As our region's businesses and organizations are better armed with the ability to implement the latest marketing strategies, we will collectively be more competitive in today's fast-paced and ever-evolving destination marketplace," said James McKenna, ROOST president. 
The lunch keynote, presented by Bill Siegel of Longwoods International, highlighted some interesting data from his company's study showcasing the value of a singular brand. The presentation included a case study about Pure Michigan, and the astounding positive results of their investment in a coordinated branding campaign on the image of the state for both tourism AND economic development. The Pure Michigan brand has been adopted consistently by municipalities, tourism businesses and even private enterprises, with remarkable results. READ ALL ABOUT IT.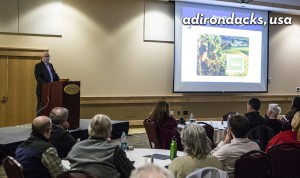 The Pure Michigan model has potential application in the Adirondacks. "By attaching the 'adirondacks, usa' umbrella brand to all of the destinations and experiences in the Adirondacks, our region's communities will benefit from a much stronger, coordinated message in the destination marketplace," said McKenna. "It seems the Pure Michigan example resonated, as we've already had a number of Summit attendees ask for the adirondacks, usa logo font to add to their individual websites and printed materials."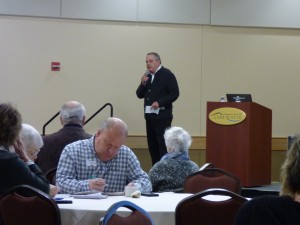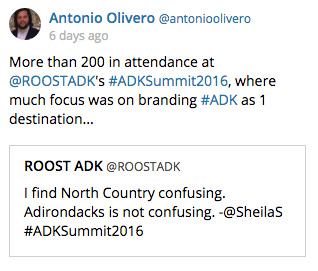 Summit attendees who completed an exit survey provided feedback that will inform future events. Among the comments collected, it was clear that Tourism Currents co-founder Sheila Scarborough was a hit with her energetic presentations on website design and reputation management, Adworkshop and ROOST presenters provided some very valuable insight and immediately-usable takeaways, and lunch by Centerplate was tasty!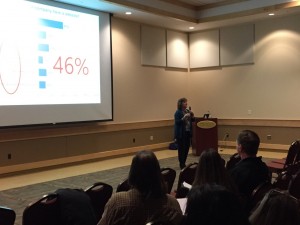 Many thanks to the Olympic Regional Development Authority and Centerplate for their support of the Summit!