19 Nov

Tourism Takeaways: Destination Marketing "Halo Effect"

ROOST is a Destination Marketing Association International (DMAI)-accredited DMO, and as such, we have access to some great research that we can apply to our destinations here in the Adirondacks.

Recently, DMAI and Longwoods International, a leader in tourism research, explored the results from a US study on the Halo Effect between destination marketing and economic development.

Psychologist Edward Thorndike described what we now call the Halo Effect as follows: "Our judgments of a person's character can be influenced by our overall impression of them."

For tourism, the concept of the "Halo Effect" would imply that the improved image of a destination from its promotional marketing efforts has impact beyond the direct spend of a resulting visit.
Pure Michigan – a Case Study
The presentation included a case study about Pure Michigan, and the astounding positive results of their investment in a coordinated branding campaign on the image of the state for both tourism AND economic development.
Pure Michigan went from rock bottom as far as tourism budget to where it is now, with consistent funding and a new singular brand.
This has all resulted in a halo effect on the State in increased awareness and image 
They cited four keys to the success of Pure Michigan: 
A powerful brand that inspires confidence and produces results.

ROI data that proves effectiveness.

Industry leadership and unity behind the data and the brand.

Sufficient budget to promote the brand. 
Statewide adoption of the Pure Michigan singular brand for tourism AND for economic development AND by many marketing partners has increased awareness and image of the state. But they have seen a "halo effect" from the brand's success.
"A surge in tourism from visitors outside of Michigan is helping increase demand for vacation houses in the region, where the median home price is about a quarter of that in the Hamptons." Bloomberg, Sept. 14, 2012
A Perfect Combination – Destination Marketing and Economic Development: Creating a Singular Place Brand
Bill Siegel from Longwoods International then presented the impact of destination campaigns on economic development via the results of research conducted in advertising markets for seven U.S. states and two CVBs.
The goal of the study was to paint a picture of HOW and WHY destination marketing creates synergy with economic development.  The study focused on destination image lift created by
A. Tourism ad awareness, and
B. Actually visiting the destination.
The results were this: in combination, destination marketing PLUS actual visitation to the destination resulted in significant image lift for those destinations in the following categories:
A good place to live

A good place to start a business

A good place to start a career

A good place to attend college

A good place to retire

A good place to purchase a vacation home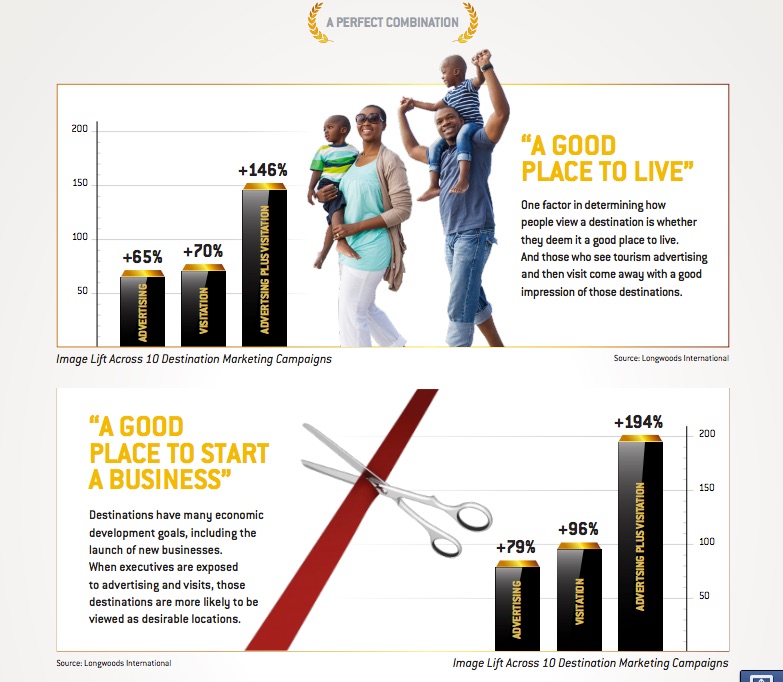 What's in it for us?
Although our region is tourism-dependent and most stakeholders already understand the benefit of tourism promotion, these study results provide further ammunition as it indicates that COORDINATED, CONSISTENT tourism promotion for a destination can have an even greater economic impact than the direct spend of a resulting visit.
"Destination Marketing is crucial to showcasing our communities to far more than visitors but, indeed, to future residents and investors. And, now, no community leader can honestly argue with that." Bill Geist, Zeitgeist Consulting.
Tourism promotion goes beyond influencing travel, to improve public perceptions of the destination as a place to live, attend school, start a career or business, or purchase a home. 
This study underscores the potential economic benefit of coordinated, consistent branding – for the Adirondacks, and for the individual destinations within the Park. 
What do you think?
Kim Rielly is the director of communications for the Regional Office of Sustainable Tourism
RESOURCES
LINK to slide show presented by George Zimmerman from Pure Michigan and Bill Siegel from Longwoods International.