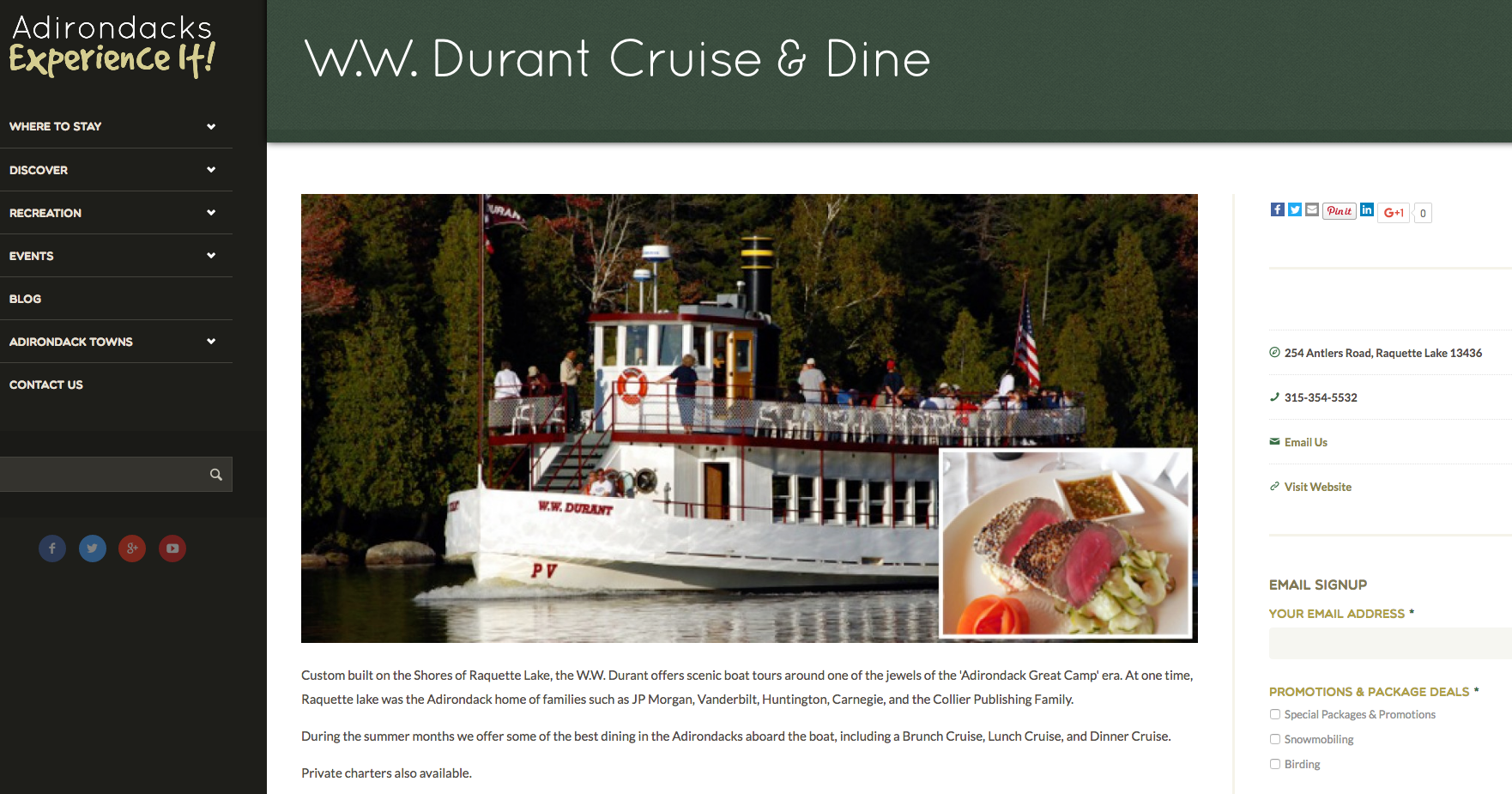 05 Oct

Why Photo Listings Matter

ROOST manages eight destination websites for our partners, clocking in at more than 3 million sessions a year combined (see the list to the right). Each website represents the lodging, dining, attractions, activities, and unique flair of the region. Our staff spends a lot of time reviewing these sites, adding or updating written and photo content. But we also rely on the strength of the great businesses across the North Country to fill our partner sites with high quality content by including a photo listing.
What exactly is a photo listing?
A photo listings is a page dedicated solely to your business on our partner site. Photo listings across all of our partner sites are relatively similar in the information they include:
High resolution photo(s) of the business.
A customized business description.
Address and phone number.
Website and email address.
Listing previews appear under an assigned category, and when clicked they expand to a full webpage dedicated to that particular business.
I have a website/Facebook page/Google business account. Why do I need another thing?
First of all, that's great! Websites, a social media presence, and management of your Google profile are all important tools for marketing your business. Our destination sites add to that lineup, giving you the benefit of showing up more often in broader regional searches.
Our partner sites are often the first listing that shows up in a Google search. You can take advantage of our strong search presence with a photo listing.
I don't have a website/Facebook page/Google business account. Is this the solution to all of that?
A photo listing is the perfect place to start building your online presence! Photo listings certainly aren't the only thing you should be doing online, but they can definitely jump-start your online marketing efforts. A few good photos and an informative description at the top of search results provides a good resource for anyone googling your business.
How can I gauge my return on one of these photo listings?
Great question!  Like any promotion, there are any number of things you can look at. Just showing up more frequently in searches is incredibly valuable, but that can be hard to measure. Some things you CAN measure are:
Page views – How many times did someone view your photo listing? We track this and provide you with stats.
Referrals to your site (conversions) – If you track analytics on your website (If you don't, you should! It's free), you can track the number of times someone ended up on your business website because they clicked on the link that's on your photo listing. Known as a 'conversion' when working with paid advertising, this is the strongest result you can easily track.
Conversion rate – Divide referrals to your site by listing page views. ROOST sites generally provide a 30-60 percent conversion rate. That's much higher than the average for online advertising!
All right, the most important question. What does all this cost?
Not much! Photo listings on all of our sites are sold as a subscription-type service, either priced independently or included with a membership in a local chamber or business organization, depending on the region. Our pricing is much less than most other advertising mediums (print, banner web ads, etc.) and is not designed to make anyone a profit other than you! The cost of listing covers only a very small portion of website maintenance and regional marketing efforts.
Prices vary based on site traffic, business type, and other services included. You can contact the appropriate representative in your region for more info on pricing.
I care about my business, but what about my community?
A photo listing can be a boon to your business. But, they also benefit your local business community. By maintaining a photo listing on one of our sites, you're supporting local marketing efforts and helping us create a fuller picture of the great and varied businesses that make up your community.
More listings = better representation of the community = more visitors = more successful businesses = healthier community!
OK already, you sold me!  How do I sign up?
It's really simple. Refer to the list below for the correct contact person for your region. Just send us photo(s), contact info, and a business description, and we can get your listing up and running.