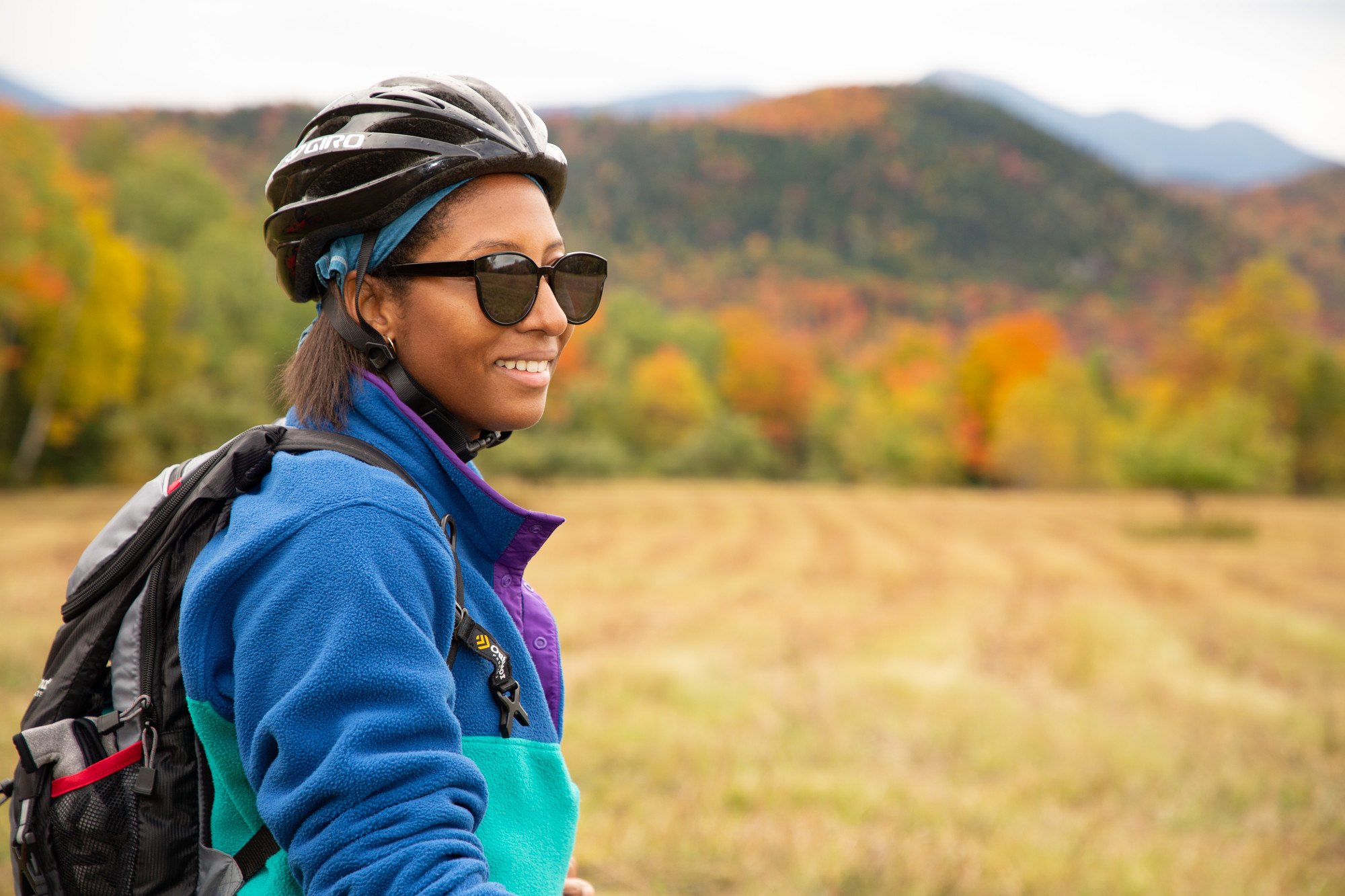 30 Nov
Travel Writers and Social Media Personalities Visit the Adirondacks
The Regional Office of Sustainable Tourism (ROOST) has welcomed a number of travel writers and social media personalities to the Adirondacks in recent months.
The Adirondacks have been featured in Instagram posts, YouTube videos, and print magazines, including Vogue and Rhode Island Monthly. The print and social media features showcase activities that include mountain biking, hiking and kayaking along with more leisurely vacation pursuits such as sightseeing and visiting local attractions.
ROOST engages with writers and social media personalities as part of its marketing strategy to encourage story development about the Adirondacks. This includes social media personalities with a significant following, travel writers who work for publications within driving distance of the region, and often includes those with a YouTube channel, Instagram following or Facebook presence. In many cases, these writers share information over a number of different media platforms since they often have websites and personal blogs while working across more than one social media platform.
Writers and social media personalities that ROOST engages with are chosen specifically based on their audience demographic, publication distribution, and audience size so that they align with the Adirondacks' target audience. The Adirondacks are within a day's drive for more than 25% of the entire North American population, so media outlets with audiences within that geographic radius are prioritized.
According to Jane Hooper, communications manager at ROOST, working with travel writers and social media personalities is one tactic that ROOST employs, in addition to traditional advertising, website development, brochures, and direct email marketing. "We know that people receive information about travel destinations from a variety of sources, often depending on their particular areas of interest," she said. "So, it's important to share information about the region through a variety of channels; we also need to ensure that the channel appeals to the targeted audience. Marketing has become very segmented – especially for a large region like ours with so many things to offer."
Nicole Kliest, a freelance writer who works with Vogue magazine, visited the Adirondacks in early November. ROOST communications staff spoke with Kliest before her visit to develop the story idea and share pertinent information about the region. ROOST developed an itinerary and made a number of additional suggestions about local communities, restaurants, attractions and hiking trails within Lake Placid, Saranac Lake, Keene and Elizabethtown. The resulting article has been published this week, with an estimated reach of more than 9 million people.
"This type of exposure is incredibly valuable for the region," said Hooper.
Gina Danza, also known as Wild Gina, visited Lake Placid, Wilmington, and Tupper Lake in early fall. She is a TV producer and creator for Discovery on Instagram. Her Instagram following is roughly 69,000, many of whom follow her adventures to unique places around the world. Gina has been advocating for the inclusion of diverse narratives and images when referring to travel, in much the same way that ROOST has been working to ensure that the Adirondacks welcome all travelers from diverse backgrounds and abilities.
Lambert Mixson produces travel-related mountain biking videos shared on his "Biking with Bobo" YouTube channel and social media accounts. Bobo is a seasoned mountain biker from Asheville, NC with a significant social media presence; his videos have been viewed more than a million times. He visited the Adirondacks in late September, riding trails in Lake Placid, Wilmington, and Elizabethtown with local experts. Bobo also spent time exploring the communities and speaking with residents to learn what makes the Adirondacks special. Three videos chronicling his Adirondack adventures were produced and have been viewed more than 100,000 times.
Lauren Clem from Rhode Island Monthly visited various sites across Hamilton County in May for an issue that was published this past fall. The ROOST communications team developed an itinerary that included Potters Resort in Blue Mountain Lake, Raquette Lake Navigation Company, the Adirondack Experience, and Great Camp Sagamore, along with restaurants and other attractions within Hamilton County. The resulting story focused on the region's beauty and activities, along with regional history. The article emphasized that Rhode Island is within a day's drive of the region, making it a great option for people looking to escape to a small town with great amenities, big experiences, and vibrant scenery.
According to ROOST Communications Coordinator Sydney Aveson, one of the organization's goals is to support the local economy by promoting the region to travelers, while protecting the Adirondack lifestyle. "Encouraging sustainability by sharing information about towns, villages and activities throughout the region is especially important," she said. "ROOST shares information about the Adirondacks as a whole, encouraging people to also explore the region. While some areas are always a natural draw for visitors, we intentionally encourage people to learn about and visit all of the different communities by sharing what makes them interesting and unique."
The Regional Office of Sustainable Tourism works to share information about visiting the region, along with improving communities, encouraging environmental protections and managing the impacts of tourism on the region. Its marketing plan is updated each year with goals and priorities for its work. Priorities include presenting information about the region to writers and social media personalities that have diverse audiences while showcasing all areas of the region. ROOST also works to promote travel to the region outside the traditionally busy times, such as mid-week and during the months that traditionally experience fewer travelers.
The Regional Office of Sustainable Tourism is the destination marketing and management organization for Hamilton and Essex counties, along with the communities of Tupper Lake and Saranac Lake, all located within the Adirondacks in New York State. ROOST is also a Community Member of the Leave No Trace Center for Outdoor Ethics.
Contact:
Sydney Aveson, communications coordinator
Regional Office of Sustainable Tourism
518.523.2445
sydney@roostadk.com