08 Mar

STAFF SPOTLIGHT: SUE CAMERON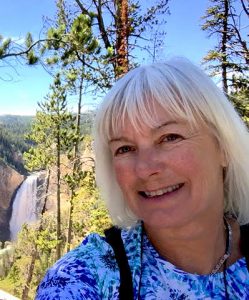 Where do you live?
We live in "Cascadeville" (our self-named neighborhood surrounding the Olympic Sports Complex at Mt. Van Hoevenberg).
Where are you from?
Born and raised in Lake Placid, but have moved away four times, the last time in 1985. Married to Glen Cameron for 29 years.
How long have you worked at ROOST?
I have worked here since January, 2010.
Job title?
I am ROOST's Events Coordinator, the IRONMAN Lake Placid Volunteer Director, and Communications Director for Empire State Winter Games.
Description of your job duties:
I manage 80+ sector captains and about 3,000 volunteers for the IRONMAN Lake Placid race in July and for the new IRONMAN 70.3 race in September. I oversee the internal communications flow, among other details, for the Empire State Winter Games. I also manage the database for our events schedule and head up special projects such as the Distinguished Volunteer of the Year awards celebration and Tastes of Maple event.
What do you like about working at ROOST?
I love working at ROOST because there is always something new and the energy here is electric. With so much going on in multiple regions and on multiple platforms, there's never a dull moment. I love working with so many people who are much younger than me. They help keep me young and in touch! Hands down my absolute favorite job responsibility is the work I do with IRONMAN. It is seriously a life-changing event for many, many people, including the volunteers. There's just nothing like it.  Race day is a 20-hour work day and there is such an incredible energy throughout the 18 hours of the race, so much so that I don't lose the momentum until my head hits the pillow. We always need volunteers, so if you haven't experienced it you really should!
What are your favorite things to do outside of work?
 Spending time  with my husband Glen at our camp on the lake, which has been in our family for nearly 70 years; kayaking on the incredible waterways of the surrounding regions in the Adirondacks; skiing (both XC and alpine); hiking; camping; gardening; dining (I LOVE food!);  and of course photographing our magnificent surroundings. 
Tell us about your pets and/or children.
We have a family of four – 2 big orange tabby cats, Morris and Timber; a Labra-Dane (1/2 chocolate lab and 1/2 great dane) named Duke and a yellow lab named Bear.  We don't have children, which is what has allowed us the financial ability to have traveled so much. Pets cost way less than kids!
If you were a superhero, what powers would you have?
I would have the power to make the elderly both physically and mentally young again. My mother (who turned 100 last July) lives at Elderwood at Uihlein nursing home and it's heartbreaking to watch the deterioration of our elderly population. In the near future I intend to start research to  try to find a way to attract a company that could develop a large state of the art assisted living facility in Lake Placid. I've had my eye on the old W. Alton Jones Cell Science Center property, which is for sale. It would be a perfect location and a main building is already in place for administration, etc. It is a large tract of land on which to expand and develop an attached living facility.  I sometimes walk the dogs up there which prompts me to give this project a great deal of thought. 
What are you passionate about?
I'm passionate about our community and the region in which we live. My native roots in Lake Placid are what make me who I am. I feel so fortunate to have been born and raised in such a special place as Lake Placid. The people here are like no other place I've lived or visited. Every day I drive to work along the Route 73 corridor between my home and the village and every day I am blown away by the beauty I drive through. It's never the same and it's always the same, if you know what I mean. The mountains are constant and comforting but the weather, the light and the landscape is never, ever the same from one day to the next, one season to the next, or one year to the next. This is what I love about Lake Placid and the Adirondacks. I'm grateful every day for what we have here and for the privilege to help promote such an amazing place.