24 Aug

Saratoga Race Course continues New York Heritage and Tourism Series with Adirondack Day

SARATOGA SPRINGS, N.Y. — The New York Racing Association Inc. continued its New York Heritage and Tourism Series with Adirondack Day, presented by the Regional Office of Sustainable Tourism, at Saratoga Race Course yesterday, Wednesday, Aug. 24.

The day highlighted the unique history, culture and tourism attractions of the Adirondack region, known best for its many opportunities for outdoor recreation. The event was held at the Saratoga Pavilion, presented by Time Warner Cable News, from 11 a.m. to 5 p.m.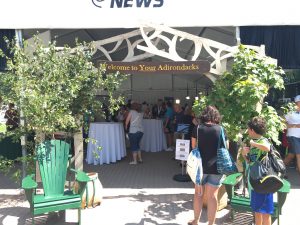 "As one of the Northeast's leading tourism destinations, Saratoga Race Course is an ideal venue by which to promote neighboring regions in New York," said NYRA Senior Vice President and Chief Experience Officer Lynn LaRocca. "According to a study commissioned by the Saratoga County Industrial Development Agency, as many as four in 10 guests who visit Saratoga reside in a state other than New York and recent fan surveys indicate that 60 percent of our guests come from outside the Capital Region. Our New York Heritage and Tourism series provides a special platform for other regions of the state to reach potential new visitors."
Guests had the opportunity to experience Adirondack life in the pioneer days with a variety of activities, including log stamping, shoe making and basket weaving. High Peaks Cyclery provided mountain bike demonstrations throughout the afternoon and the Adirondack Wild Refuge and Rehabilitation Center showcased live birds of prey native to the Adirondacks.
The event also included a craft beer tasting with numerous regional breweries, including Big Slide Brewery, Big Tupper Brewing, Great Adirondack Brewing Company, and Raquette River Brewing. Samples of fresh local farm food were provided by Adirondack Harvest.
Fans had the opportunity to have their photo taken in an authentic bobsled, courtesy of the Olympic Regional Development Authority. Additionally, guests experienced the sights of the Adirondacks with virtual goggles while sitting at a mock campsite complete with a tent.
Live entertainment was provided by local musician Brad Hester, hailing from the band Annie in the Water, at the Saratoga Pavilion.
A variety of other Adirondack organizations were represented at the Pavilion, including the Adirondack Museum, the Adirondack Wildlife Refuge and Rehabilitation Center, the New York State Department of Environmental Conservation, Fort Ticonderoga, the New York State Olympic Regional Development Authority, the Paul Smith's College Visitors Interpretive Center, and The Wild Center.
The final installment of the New York Heritage and Tourism Series will highlight the tradition of craft beverages in Central New York on Aug. 31. The day-long event will feature activities, exhibits and entertainment which showcase the renaissance of craft beer, hard cider, spirits and wine in Central New York.
The 2016 summer meet at Saratoga Race Course continues through Labor Day, Monday, Sept. 5. For more information about Saratoga Race Course, visit NYRA.com.
Check out the video Saratoga Race Course made about the day: