28 Dec

ROOST staffer earns certification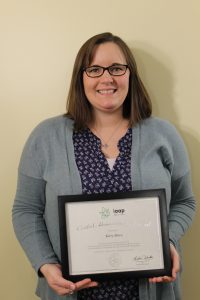 ROOST Administrative Assistant and DMP Coordinator Kerry Blinn earned the Certified Administrative Professional certification through the International Association of Administrative Professionals (IAAP).
Kerry has been a member of IAAP since July 2015, and she took the CAP exam in September 2016, passing on her first try. This professional development was completed in her personal time. She is now exploring the optional specialty of Organizational Management, also through IAAP, to add to her CAP certification.
The IAAP Certified Administrative Professional (CAP) is the leading recognized professional certification in the administrative field that encompasses all areas of the office.
IAAP is a nonprofit professional association for administrative professionals. It strives to ensure individuals working in office and administrative professions have the opportunity to connect, learn, lead, and excel.
The association focuses enhancing the value that office and administrative professionals bring to the table and advocate for the profession as it evolves to encompass the role of not just business partners but also leaders.