27 Jul

ROOST staff finds Common Ground

Five members of the ROOST team traveled to Old Forge's The View last week to attend the 10th annual Common Ground Alliance Forum, "Building Blocks for the Adirondack Community Success."

The CGA has been holding this forum annual for 10 years with the goal of each of the various interest groups in the Adirondacks, which can sometimes be contentious, coming together to find common ground to help mold the future of the Adirondacks.

This year's forum opened with remarks from Lt. Gov. Kathy Hochul, who talked about what a special region we have in the Adirondacks.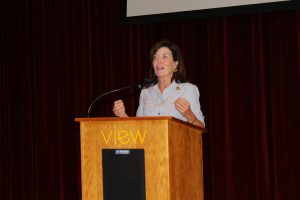 After some other introductory remarks, the group of about 180 attendees from throughout the Adirondacks and beyond broke off into eight different groups to discuss various Adirondack issues.
ROOST CEO James McKenna partnered with with DEC Region 5 Director Bob Stegemann to lead a session called "Capitalizing on the Park's Resources to Leverage Economic Investment to Help Maintain or Create Vibrant Communities." ROOST Visitor Service Specialist Marjorie Waterson also attended the session and took notes. The large group was full of excellent, constructive feedback, and probably could have spent a full day or even a week discussing the topic. 
They decided that the two most important things the regions need from the state would be restructuring economic programs specific to Adirondack Park hamlets' sustainability and survivability and increasing investment in maintenance of state assets to promote private interest.
Steps the workgroup suggested to be added to CGA's Blueprint for the Adirondacks included creating a one-stop shop where people interested in investing in the region could find out about all the existing regulations that would apply to a project, and finding case studies that display investment successes that would help increase optimism.
Michelle Clement, ROOST's marketing manager for Tupper Lake and Hamilton County, helped facilitate a session called "Responding to/Leveraging Changing Demographics," which was also well-attended.
Adirondack Diversity Advisory Council Coordinator Pete Nelson facilitated the discussion. The workgroup discussed a variety of issues and barriers that limited diversity and an aging population impose on the Adirondacks. Much of the conversation focused around opportunities and actions that can be taken to broaden the diversity among Adirondack residents and visitors and how we can make the Adirondacks more accessible and attractive to a diversified population, from signage and marketing materials to creating a support system.
Some of the conclusions that arose included the need to do research so that it isn't simply "another white man's plan to tackling diversity." This topic will be further during the diversity symposium in Newcomb in August.
Kerry Blinn, ROOST administrative assistant and DMP coordinator, and Jess Collier, ROOST communications and public relations coordinator, both attended a session about women in Adirondack leadership positions, which focused mainly on women in politics. The discussion was lead by Barb Rice, Saranac Lake's representative on the Franklin County Legislature and new Adirondack Park Agency commissioner, and Teresa Sayward, who represented the area in the New York State Assembly after having served on her town and county boards.
The group was small but passionate. Attendees discussed many of the challenges women face in the political world, from feeling unqualified and having to be asked to run for office multiple times in the first place, to the "old boys network" that creates an easy pipeline for men in office but overlooks women, to balancing work, politics, and family.
The group asked the state to look into imposing term limits and campaign finance reform, both of which would limit the influence of any old boys network, and school integration, such as programs to introduce politics to children (boys and girls!). They also came up with the idea of creating a formalized network of women who are currently in leadership positions who can support one another and help keep them where they are. 
Other groups discussed a variety of topics ranging from recreation needs to the APA's role. 
Everyone from ROOST agreed that it was a worthwhile day full of interesting people and ideas, and we look forward to joining the conversation again next year. Thanks to the Adirondack North Country Association for organizing this great event!
More photos!