22 Mar

ROOST bloggers present at the Adirondack Museum

Two ROOST bloggers recently gave part of a lecture on topics they originally blogged about for ROOST.

ROOST Communications and Public Relations Coordinator Jess Collier and freelance blogger Noelle Short both talked about Fierce and Forever Wild Adirondack Women Sunday, March 13, in the Adirondack Museum's Cabin Fever Lecture Series. The idea for the lecture topic was in part drawn from one of ROOST's weekly emails about Badass Adirondack Women.

Collier told the story of Anna Newman, who was one of the original settlers of the Uihlein Foundation's Heaven Hill Farm and was once referred to as the "strangest Adirondack woman."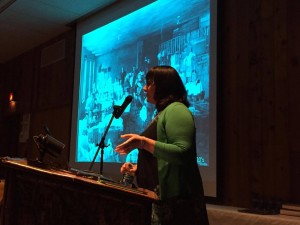 Short talked about two contemporary Tupper Lake women, Anne Fleck and Amy Farrell. Fleck is an entrepreneur and adventurer who co-owns Raquette River Outfitters, and Farrell is a local teacher who won the women's division of last year's Lake Placid Ironman.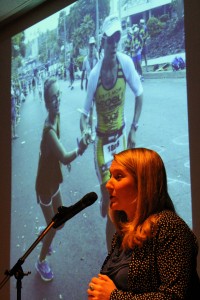 They were joined by other fierce Adirondack women Sandra Weber, Lorraine Duvall, and Niki Kourofsky.
Here's a video of the presentation, for all who missed it.
The Adirondack Museum's Cabin Fever Lecture Series is quite popular, and attendees should show up early so as not to get shut out. One lecture remains this season, and it will feature Amy Catania and Mary Hotaling discussing Saranac Lake's history with tuberculosis.