17 Jan

ROOST announces 2017 Board of Directors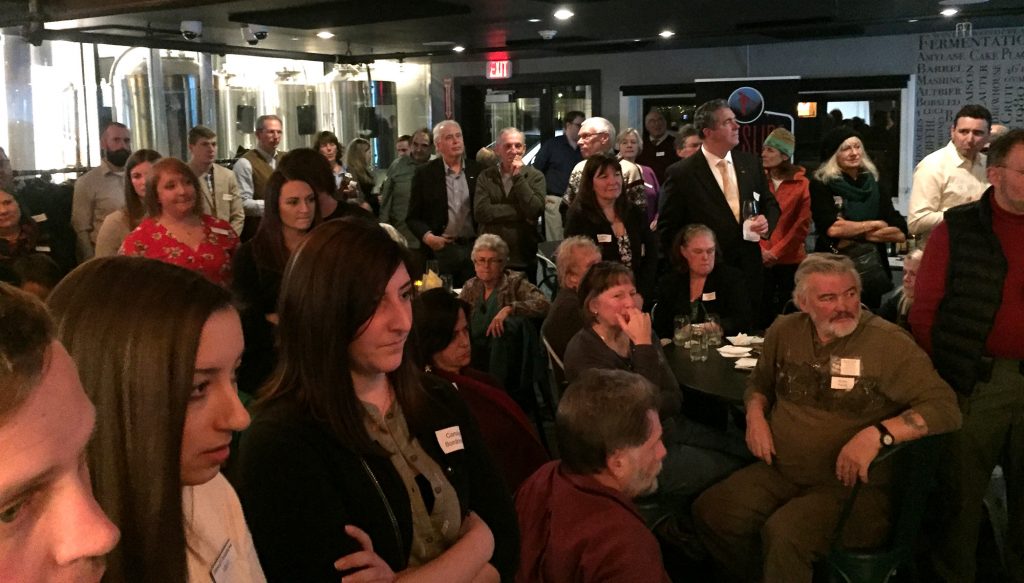 Lake Placid, adirondacks, usa —The Regional Office of Sustainable Tourism (ROOST) is pleased to announce its 2017 Board of Directors. 
ROOST elected three new, and reelected five current board members and elected officers at its annual meeting and Winter Social on Monday, Jan. 16.
The new slate was announced at ROOST's Winter Social at  Big Slide Brewery and Public House in Lake Placid, which was attended by ROOST staff, board members, businesspeople, and elected officials from throughout ROOST's eight Adirondack regions.
As guests mingled, ROOST CEO James McKenna spoke briefly and introduced the staff. Outgoing Board Chair Mike Beglin then reviewed the dramatic growth of the organization over the three years he was chair of the board.  
In the official annual meeting held just prior to the Winter Social, new board members Mark Jessie of Tupper Lake, Lisa Hess-Marks of Schroon Lake, and Andrea Holderied of Lake Placid were elected to a 3-year term. In addition, current Board Directors Chris Ericson, Charlie Cowan, Melinda Little, Jill Cardinale, and Sarah Wilson were all reelected to an additional term.   
The 2017 ROOST board is comprised of the following:
Chair: Ed Finnerty, Vice President/Counsel, Champlain National Bank
Vice Chair:  Melinda Little, President, Point Positive, Inc., Saranac Lake
Treasurer: Charlie Cowan, financial consultant with Longrun Wealth Advisors LLC
Secretary: Bob Hockert, owner of Adirondack Sauna in Wilmington
Mike Beglin, immediate past ROOST board chair and owner of Beglin's Lake Placid Jewelry and Gifts
Beth Hill, executive director at Fort Ticonderoga
Jill Cardinale, owner of The Pines Inn
Sarah Wilson, Sarah Wilson Communications in Keene
Chris Ericson, former ROOST board chair and owner of the Lake Placid Pub and Brewery
Marc Galvin, owner of the Bookstore Plus and past president of the Lake Placid Business Association
James Lemons, executive director of the Lake Placid Center for the Arts
Jecinda Hughes, owner of Origin Coffee in Saranac Lake
Mark Jessie, owner of Raquette River Brewing in Tupper Lake
Lisa Hess-Marks, owner of Pine Cone Mercantile in Schroon Lake
Andrea Holderied, operations director at Golden Arrow Lakeside Resort in Lake Placid
ROOST is the accredited destination marketing organization (DMO) responsible for promoting Essex County, Franklin County, Hamilton County, the Town of North Elba, the Town and Village of Tupper Lake, Harrietstown, Lake Placid, Piercefield, and Saranac Lake, New York to the traveling public. roostadk.com. 
-ROOST-