05 Jan

PUBLIC INVITED TO FOLLOW-UP DISCUSSION ON THE WORLD UNIVERSITY GAMES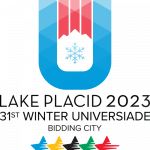 January 4, 2017
FOR IMMEDIATE RELEASE
PUBLIC INVITED TO FOLLOW-UP DISCUSSION ON THE WORLD UNIVERSITY GAMES
WHO: Members of the Adirondack North Country Global Sports Committee
WHAT: The public is welcome to attend the second meeting and Q&A session regarding the possibility of bringing the World University Games to the Adirondacks in 2023. The committee will provide an update on the bid process.
WHERE: Conference Center at Lake Placid, second floor, 2608 Main St.
WHEN: Wednesday, January 17, 5:30 p.m.
WHY: The ADKNC Global Sports Committee, comprised of regional communities, elected officials, ORDA and ROOST, completed a bid dossier to host the 2023 World University Games. The meeting will include an overview of the Games, and what hosting the event would mean for the communities in our region. The meeting will include pertinent updates to the bidding process.
The World University Games brings together more than 3,000 participants, delegations and officials from 60 countries. It is an 11-day, worldwide competition of student-athletes that are among the best in the world in various disciplines: alpine, freestyle, and cross-country skiing, biathlon, speed skating, curling, figure skating, hockey, short track speed skating and snowboarding. Optional sports and for further discussion include ski jumping, nordic combined, ski orienteering, long track speed skating and the sliding sports. 
###