19 Nov

McKenna inducted to Lake Placid Hall of Fame

ROOST CEO James McKenna was inducted into the Lake Placid Hall of Fame this weekend at a ceremony at the Conference Center at Lake Placid. Beverley Pratt Reid, historian of the town of North Elba and village of Lake Placid, was also inducted.

ROOST employees and community members joined to celebrate the accomplishments of both hall of famers.

Plaques honoring both McKenna and Reid have been added to the more than 100 Hall of Fame plaques on display on the second floor of the Conference Center near the 1932 Ice Rink.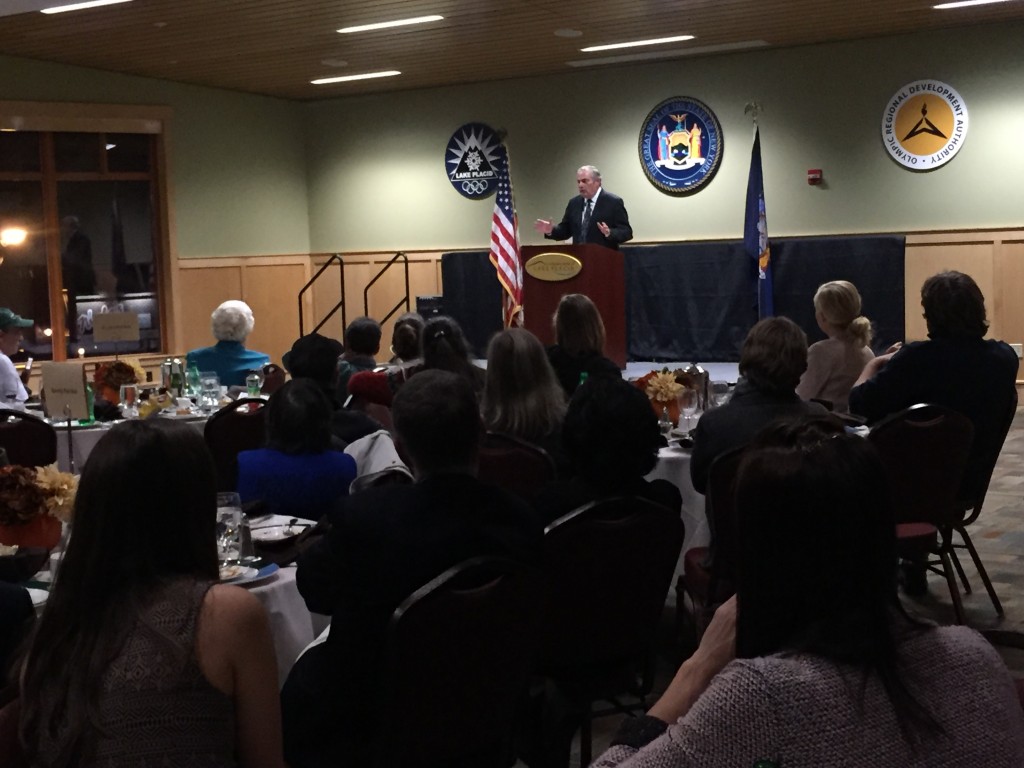 ROOST CEO James McKenna speaks at his Lake Placid Hall of Fame induction ceremony.
McKenna's bio:
James McKenna's vision for the future of Lake Placid and the Adirondacks convinced him nearly 40 years ago that tourism and preservation must serve as the foundation for cultivating and sustaining the region's economic vitality while advancing Lake Placid's role on national and international stages.
As a champion of both destination planning & promotion and sustainable economic & sports development, McKenna embraces regional tourism as the key to unlocking the potential of Lake Placid and the Adirondacks as sustainable brands while also ensuring Lake Placid's reputation as a premier international destination. Frequently challenging conventional wisdom, McKenna remains fresh and innovative as he successfully traverses the complex world of destination planning and marketing. As a leader in recognizing and reacting swiftly and strategically to changes in the travel industry, he implements proactive initiatives to guarantee that Lake Placid and other Adirondack communities are armed with the cutting-edge tools needed to compete in the global marketplace. His unique ability to bridge ever-changing political, environmental and economic perspectives enables him to guide those with different and often polarizing views to focus on shared goals and long-term solutions in order to safeguard the vitality of Lake Placid and the Adirondacks.
McKenna represented the Village of Lake Placid at nine Olympic Winter Games and continues to deliver national and international presentations regarding Lake Placid's Olympic heritage. As a founding delegate to the World Union of Olympic Cities, he preserves Lake Placid's Olympic legacy and guarantees that our community continues to stand shoulder-to-shoulder among leading Olympic cities of the world.
McKenna engineered the formation of the Regional Office of Sustainable Tourism (ROOST) as an organization based on the principles that tourism must reflect the needs of communities, improve the quality of life for residents, and neither disrupt nor inhibit the environment or the heritage of its member communities. By assembling a team of savvy professionals he steers ROOST in its efforts to balance strategic tourism marketing with destination planning initiatives in order to achieve a sustainable economy for the region.
His appointment by the Governor to the North Country Regional Economic Council furthers his long-term influence on the regional economy. Dedication to, and philanthropic leadership of, the Henry Uihlein II and Mildred A. Uihlein Foundation led to establishment of Heaven Hill Farm as a non-profit meeting and fundraising center, the Uihlein/Ironman Sports Fund and to the development of the beloved community preserves, Henry's Woods and Heaven Hill Trails.
Lake Placid salutes James McKenna's lifelong dedication to our communities and his enduring vision that we must embrace innovation, stewardship, and regionalism in order to preserve the heart of our Adirondack communities and to ensure a vibrant and sustainable future for Lake Placid.
Blue skies ahead!