20 Dec

Empire State Winter Games return to Adirondack and North Country regions in January

Empire State Winter Games return to Adirondack and North Country regions in January

New sports and venues, expanded torch relay, festival returns to downtown Lake Placid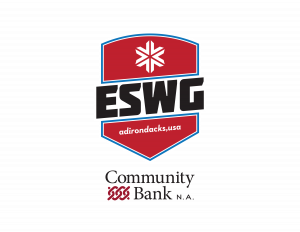 FOR IMMEDIATE RELEASE
Carrie Gentile
ROOST Communications Coordinator
cgentile@roostadk.com
518-523-2445
 Jon Lundin
ORDA Director of Communications
jlundin@orda.org
518-523-1655
Sarah Warren
Community Bank, N.A. Public Relations Specialist
Sarah_Warren@dixonschwabl.com
585-899-3271
December 20, 2019
Lake Placid, NY – The 39th running of the Empire State Winter Games, presented by Community Bank, N.A., will bring the spirit and excitement of traditional and adventure winter sports competition back to the North Country and Adirondack regions of New York state. 
"We are thrilled to once again be the title sponsor of the Empire State Winter Games, and all the tradition they bring," said Mark Tryniski, CEO of Community Bank, N.A. 
"As our name suggests, we support our communities we serve, and these games bring tourism and provide economic support to the region. We're proud to be a part of this almost 40-year tradition."

From Jan. 31 – Feb. 3, over 2,300 athletes of all ages from across the state and beyond are expected to participate in more than 30 sports, giving these amateur athletes the chance to compete on a world-class stage. Olympic alpine skier Andrew Weibrecht, lugers Chris Mazdzer and Emily Sweeney, biathletes Lowell Bailey and Tim Burke all competed at the ESWG early in their careers before earning their place on Team USA. 
"Competing in the Empire State Winter Games early in my career was such a wonderful experience for me. They have the feel of an Olympic Games, with the opening ceremonies and parade of athletes, a chance to meet athletes from all regions," said Emily Sweeney, 2018 Winter Olympian. "It gave me a chance to push myself and test my skills on a large stage."
"It's so important that young athletes have the support of their community, and these Games provide that to its athletes," said Andrew Weibrecht, 2010, 2014, and 2018 Winter Olympian, and Lake Placid native. 
The opening ceremony on Jan. 31 at 6 p.m. is free and open to the public, and will be held in the Herb Brooks Arena in the Lake Placid Olympic Center. A live performance by the high-flying aerial and acrobatic duo, Elsie Smith and Serenity Smith Forchion of the circus-inspired theatrical act Nimble Arts will entertain the audience and set the tone for the ESWG as not only a competition but a celebration of winter. The arena will begin to glow as all the athletes parade in wearing LED bracelets that are timed to the music, a new addition to this year's event. Spoiler alert: one bracelet will turn a different color than the rest. The wearer of that bracelet will be given the honor of lighting the cauldron, signifying the opening of the games. 
As the headquarters for the Games, Lake Placid will once again welcome the public to the ESWG Village, which has relocated to Mid's Park on Main Street, drawing crowds to the heart of Lake Placid's downtown district. 
The family-friendly village is open Thursday from 4-6 p.m., Friday and Saturday from noon-7 p.m., and Sunday from 10 a.m.-1 p.m. Award ceremonies will be held there daily, along with free hot chocolate, s'mores, music, and games for the kids. 
While Lake Placid serves as the basecamp for the weekend, sporting venues throughout the region are being used for ESWG events, such as Paul Smith's College, which will host the debut of Esports to the Games. The competitors will be playing Madden NFL on both PlayStation and XBox.
"This provides us the opportunity to bring prospective students on campus and expose them to the beauty and assets of the college, while aligning the Games with the cutting edge innovation and rapidly growing movement of Esports," said Molly Rose Mayer, director of the ESWG. 
Cross-country skiing has been expanded and will now be open to ages 7-11, with a mass start 1 kilometer freestyle race the night of Friday, Feb. 1 at Dewey Mountain Recreation Center in Saranac Lake. 
After the resounding success of last year's torch relay, organizers announced this year's version is expanded and will now include two routes — one beginning in Buffalo and one from New York City — that will meet in Malone, thus uniting the state of New York before traveling together to the opening ceremony. The torch run begins January 27, and ends January 31 when it converges at the soccer field at Franklin Academy in Malone before continuing on to opening ceremonies that evening. 
Minutes from Malone's downtown is Titus Mountain Family Ski Center, home to the ESWG Ski Festival at Titus. The day will begin with a competitive downhill race and will follow with an opportunity to watch the Terrain Park Rangers put on a rail jam exhibition and Ride with a Ranger, which is a chance to learn how to hit rails from the professionals.
More about the ESWG
The Empire State Winter Games is a community-driven event, courtesy of a partnership between the Regional Office of Sustainable Tourism (ROOST); the towns of North Elba, Wilmington, Tupper Lake, Harrietstown, Malone, and Brighton; the villages of Lake Placid, Tupper Lake, Paul Smiths, Malone, Wilmington, and Saranac Lake; the counties of Essex and Franklin; the New York State Olympic Regional Development Authority, and New York State Senator Betty Little. Sport venues are located in Lake Placid, Wilmington, Saranac Lake, Tupper Lake, Malone, and Paul Smiths. Venues include: Lake Placid Olympic Center Herb Brooks Arena, Lake Placid Olympic Jumping and Sliding complexes, Mid's Park in Lake Placid, Whiteface Mountain, Paul Smith's College, Paul Smith's College VIC, Saranac Lake Civic Center Ice Rink, Dewey Mountain Recreation Area, Tupper Lake Memorial Civic Center, Olympic Cross Country and Biathlon Center, Titus Mountain, and Mount Pisgah.