18 Apr

Celebrate Paddling in Saranac Lake, Adirondacks through the month of June



April, 2019
Saranac Lake, NY – This June, the upstate New York village of Saranac Lake, located smack dab in the center of the Adirondacks' 30,000 miles of paddling routes, is holding a month long paddling celebration.
Local outfitters and guides are organizing Celebrate Paddling — with a full slate of activities including an SUP Festival, long and short-distance races, and much more.
With a goal of hosting an event every day during June, the partners — Adirondack Lakes and Trails Outfitters, the Northern Forest Canoe Trail, St. Regis Canoe Outfitters and Mac's Canoe Livery — are offering demo days, guided canoe, kayak and guide boat trips, races, lectures, clinics on whitewater paddling, kayak strokes and general canoe use.
New this year is the Celebrate Paddling Invitational on June 30 — canoe, kayak, guide boat and SUP paddling races for all abilities including youth, novice and marathon. Race distances are 1, 3 and 12 miles and start and finish on Lake Flower.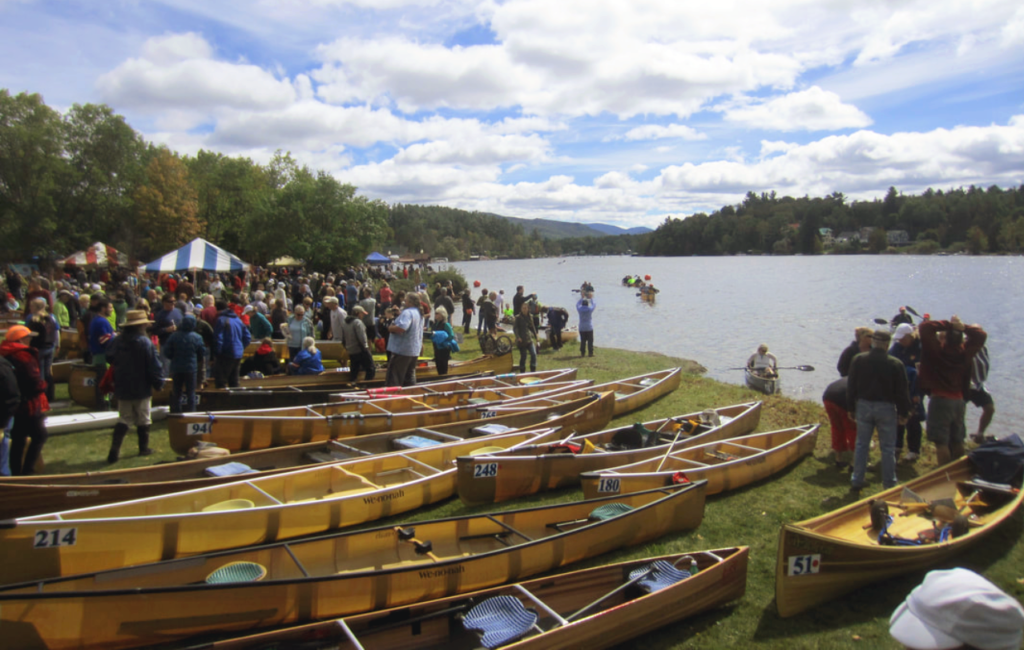 "Celebrate Paddling was created to promote paddling in the Saranac Lake area, one of the most scenic places in the northeast," said Mike Lynch, communications director for the Northern Forest Canoe Trail and an Adirondack guide. A schedule of events is listed here, and will continuously be updated as more events are added.
About Saranac Lake and the Adirondacks
New York's Adirondack Park is a protected wilderness region larger than Yellowstone, Yosemite, Grand Canyon, Glacier and Great Smoky Mountains National Parks combined, encompassing more six million acres. Within its boundaries are 3,000 pristine lakes and ponds and more than 1,200 miles of rivers fed by an estimated 30,000 miles of brooks and streams.
When a town has "lake" in its name, it better give off a solid water vibe. Saranac Lake doesn't disappoint. It's surrounded by an interconnected mix of scenic lakes, remote ponds and meandering rivers. The Saranac River, Northern Forest Canoe Trail, Saranac lakes and St. Regis Canoe Area are all located within a 20-minute drive from downtown.
Saranac Lake has right-out-your-backdoor paddling in abundance. Begin and end your day on the water right from downtown. Lake Flower is the showpiece in the middle of town. It's a result of damming the Saranac River that runs through town and connects to the Saranac Chain of Lakes.
In a nutshell, the village itself is a place with an urban, creative vibe, and where the mountains and lakes are as accessible as they are beautiful. Downtown Saranac Lake is full of artsy shops, restaurants, bars, a farmers market and outdoor music concerts. You can begin and end your paddling adventure just a short walk from dining, shopping and nightlife. For more info on paddling and a Saranac Lake vacation, go to SaranacLake.com.