07 May

Call for Volunteers and Boats!

US National Fly Fishing Team Qualifier in Lake Placid, NY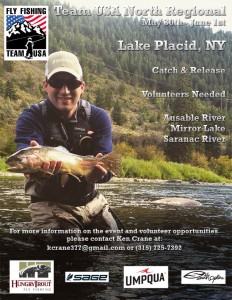 Lake Placid, adirondacks usa – Lake Placid, NY will play host to the 2015 Team USA Fly Fishing Team's North Regional Qualifier May 30th –  31st. The nation's top 24 fly anglers will convene on the area's trout streams and lakes for a chance to qualify for the World Championships in Vail, CO in 2016. 
CALL FOR VOLUNTEERS AND BOATS
Fly Fishing Team USA is looking for volunteers to assist the anglers over the 2 day catch and release competition.  Each volunteer's role will be recording the size and species of every fish caught but sharing some local "intel" never hurts either.  Anglers will be fishing on the Ausable River and Saranac River's while wading, and Mirror Lake from boats.
Sessions will run 8-11am and 2-5pm Saturday and Sunday.  Volunteers may help for 1, 2, 3 or all 4 sessions as their schedule permits. All volunteers will receive lunches on both days as well as gifts from the team, sponsors, flies from the anglers and an event T shirt. In addition, volunteers are invited to the awards ceremony at R.F McDougals Pub Hungry Trout Resort Sunday evening. 
Never seen a Fly Fishing Completion before? It's not what you think. There will be 6 anglers spread across roughly 2 miles of stream separated by 200 meters or in a boat with full access to the lake.  This is their "beat" and the angler may only fish in this section.  This ensures no crowding between competitors and the recreational anglers.
Help out, learn from the best and walk away with more information, new techniques and skills! No experience required other than the love of the outdoors.
For more information on the event and volunteer opportunities please contact Ken Crane at (315) 725-7392 or kcrane377@gmail.com