29 Jun

Board Corner: Melinda Little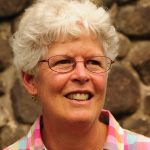 At one time in her life, Melinda Little thought she would retire to the Adirondacks. But for the last 21 years, she has lived here full time and you could hardly call her retired.
Melinda grew up on Long Island, then earned a bachelor's degree in Art History from Wellesley College and an MBA from Northwestern's Kellogg School of Management. She worked in the nonprofit theater world for some time then, when she got the chance to work on a few feasibility studies, she grew interested in marketing.
Nowadays, she calls herself a serial entrepreneur. She has run a handful of her own businesses, and she was integral to the creation of Saranac Lake's Community Store, writing the business plan and serving as president of the operation since the organization started raising money. The store, which is owned by members of the community who bought shares in it, has seen interest wane a tad since the huge burst of initial excitement when it opened and saw tons of national publicity. Sales continue to grow, though there's a continued challenge to get new feet in the door. But Melinda and her colleagues hope to generate excitement about the Community Store once again with the fifth anniversary of its opening this fall.
She also in recent years started as coordinator for Point Positive, an angel investor group that seeks to invest in early stage and startup companies. The group holds two live pitch sessions each year to vet potential companies to work with, and though the group is now a few years old, interest has not dropped off; instead, it has continued to grow.
She said she loves being involved with Point Positive. She loves being involved in entrepreneurial pursuits, but she doesn't have the fire in her belly to start her own, so it's great to get the chance to be involved in helping get new businesses off the ground. "It's right up my alley," she said.
Melinda also serves and has served on a variety of local boards. Some of her most impactful work has been with the Pendragon Theatre board, which she has been involved with on and off since the 1980s, and the Tri-Lakes Humane Society, which she has been on the board of since 2006.
She got involved in the ROOST board three years ago when local politician Barb Rice asked her to represent the Saranac Lake area on it. Now she's one of two representatives from Saranac Lake; Origin Coffee Co. owner Jecinda Hughes joined the board this year.
Melinda was surprised to learn when she joined the board how much of an impact ROOST has in terms of marketing a diverse but cohesive identity for the region. She loves that her involvement with ROOST gives her a good vantage point for knowing what's going on throughout the Adirondacks.
She knows it's always a challenge to maintain relationships with the various entities that ROOST has contracts with, so one of her biggest goals is to do anything she can to support keeping those relationships strong and creative.