14 Jul

Board Corner: Laura O'Brien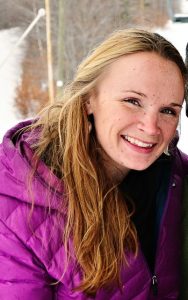 ROOST board member Laura O'Brien and her husband Matt have taken on one of the most challenging jobs in the area — running a small family ski slope and making it profitable. But they've made huge strides in diversifying their options at Oak Mountain in Speculator, and hopefully they will be there for many years to come.
Laura is originally from New Hampshire, and she earned a fine arts degree at Montana State University in Bozeman, then she earned a graduate degree from the University of Nebraska. She and Matt met while working at Sugarbush Resort in Vermont, then they started running a camp store at Moffitt Beach in the summers while working ski slopes in Park City, Utah, in the winters.
At the time, they didn't even realize there was a ski slope in Speculator. But after a few years, the mayor of Speculator, aware of their background in working at ski resorts in both the west and the east, approached them to run Oak Mountain Ski Center. And they quickly fell in love with it.
The village couldn't afford to keep them on after some time, so they moved on to Maine's Sunday River, but then the Hamilton County Industrial Development Agency approached them to see if they wanted to bid on the ski slope. After a year-long process of submitting various operational plans, budgets, and other documents, the O'Briens were the owners of Oak Mountain Ski Center.
"It's just been a blast," Laura said.
Over the last few years, they have grown skier visits by nearly 90 percent, from 8,000 when they were running the center for the village to 15,000 in their best season. (The most recent ski season was far from their best, but it wasn't just Oak — it was a trend seen throughout ski slopes in the U.S. Laura is confident the coming winter will be awesome, though!)
Laura and Matt have expanded snowmaking and put some oomph into the ski center's marketing efforts, trying to focus in on who their customers are and reach out to that segment of the popular better to help build their customer base. They have also focused on improving the experience in their lodges, doing renovations, painting, and making things look better. The lodge now also includes the Acorn Pub and Eatery, a restaurant with delicious eats cooked up by Chef Lou Petrozza, who was a season 4 finalist on Gordon Ramsey's Hell's Kitchen TV show.
"People just love him, and of course they love his food, because it's amazing," Laura said.
Oak also recently took over ski rentals, now offering brand new Rossignol skis.
The O'Briens have also taken efforts to expand their summer offerings, trying out a disc golf course and downhill mountain biking trails. The idea is to make sure there's something for everyone, no matter what time of year a family visits Oak. They also tried mini golf under a tent, but there wasn't much interest in that. Laura said they like to try things here and there to see what sticks, and if it sticks, like mountain biking has, they will expand it. If it doesn't, well, the mini-golf course is currently for sale.
When they're not working on their business, Laura loves to spend time with Matt and their daughter and son, and their black lab. Laura loves the outdoors and can often be found hiking, paddleboarding, snowboarding, skiing, and otherwise exploring the woods and waters of the Adirondacks.
Laura has also been involved in efforts to improve Speculator and the surrounding area, and she helped with a destination planning co mmittee ROOST facilitated. Last year, she was offered a seat on the ROOST board, and she said, "Heck yeah, whatever I can do to help out this area and make us more well known is great."
She notes that the small businesses of Hamilton County have seen significant impacts from ROOST's marketing efforts already, and she hopes ROOST will continue to grow its efforts to bring more awareness and tourism to the area.
For more information about Oak Mountain, like them on Facebook or visit their website.