16 Nov

Board Corner: Charlie Cowan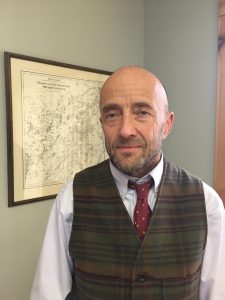 Charlie Cowan is an Ironman and an avid skier and kayaker, and sometimes he takes a break from all of that to help with ROOST finances.
The ROOST board treasurer grew up in Western New York. He started visiting the Adirondacks in high school when he got into whitewater kayaking; his introduction to the area was dipping his paddle into the Hudson River Gorge. He moved to the Adirondacks before the Olympics, then left in 1981. He's always been an outdoorsy type, ski bumming around Stowe, attending the University of Utah, and living in Denver.
Charlie returned to the Adirondacks in 1988 and raised his family here. His wife, Sofie, worked at ROOST in the '90s, back when it was called the visitors bureau, so Charlie has been familiar with the organization's work for years.
He's competed in about 10 Ironman competitions, including multiple world championship triathlons in Kona, Hawaii, and he usually tops his age group. When he's not training for tris, he can still be found paddling flatwater and whitewater in warm weather and tearing up the slopes and woods trails in the winter. He passes his love of the outdoors through his work with the Lake Placid Outing Club, which aims to introduce area children to all the great things there are to do outdoors in the Adirondacks.
It's been 35 years since Charlie got into the finance world focusing on investment advisory services, and he's been doing it in the Adirondacks since he returned here in '88. He's always been fascinated by the way markets work. He calls it detective work — figuring out what's going on in the world and how it reflects in the markets. Some days are a nail-biting challenge, and others are more low-key. He and his partner started their current financial advisory business, Long Run Wealth Advisors, last December.
Charlie has served on the ROOST board since 2010, helping with the organization's finances. Right now, he and the rest of the Finance Committee are working on making ROOST's finances more transparent and easy to understand.
He believes ROOST provides valuable services to the North Country, since the area's economy is driven by tourism, and most businesses outside the service industry still see a significant impact from it.