16 Jun

Board Corner: Beth Hill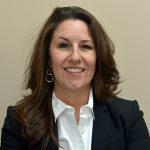 Beth Hill came to the Adirondacks in 2010 to take over as president and CEO of Fort Ticonderoga, and a year later, she joined the ROOST board. She's been serving on the board ever since then.
Beth was born on Long Island and has lived in small communities and big cities all over the world. She has national and international work experience, and she's been in the museum profession for about 24 years. She has also owned her own business.
The Adirondacks, Beth says, are unique from the other places she's lived in that we have a combination of important assets that other regions would die for: The Adirondacks have so much natural beauty, partnered with a strong, important story to tell.
Fort Ticonderoga
Beth gets to help tell that story every day through her work at Fort Ticonderoga. People often think of the history of the Adirondacks as that of the High Peaks and central woods regions, which didn't get penetrated by residents and travelers much until the 1800s. The Lake Champlain Region, though, is an important part of the Adirondacks, and it played a significant role throughout America's history with strategic military actions taking place at Fort Ticonderoga and other places along the shores of Lake Champlain. The freedoms we have today were defined in part at Fort Ticonderoga, Beth says.
Beth and the rest of her staff are looking forward to a busy season at the Fort. They've already seen strong numbers since their opening in May, and as they continue to expand their experiences and audience, the Fort has seen growing attendance regularly since 2011. Over the past few years, they have added experiences in the gardens around the Fort, on nearby Mount Defiance, and with popular boat tours on Lake Champlain, making it possible for visitors to spend a whole day, or even multiple days, exploring the Fort's offerings.
Each year, Fort Ticonderoga focuses on a different year in the Fort's history, and this year will feature 1777, when it was a major supply depot. For more info about what's new this season at the Fort, click here.
ROOST board
It didn't take Beth long after moving here to join the ROOST board, and she's been serving on it ever since. She's an energetic voice representing the Lake Champlain Region, recognizing the role that tourism plays both in economic development but also in maintaining and improving the quality of life we enjoy in the Adirondacks. And as the head of one of the major destination attractions in the region, it's useful to the rest of the board and to ROOST's staff to have her input and ideas incorporated into the fold.
She's been pleased to see ROOST building regional partnerships and collaborations, which she notes is a goal aligned with the philosophy of Gov. Andrew Cuomo's Regional Economic Development Councils.
In the future, she hopes to see ROOST continue to attract more travelers into the region and help them spend more while enjoying themselves here, as is the goal of any destination marketing organization. She sees that happening both through ROOST's marketing efforts and also its work in destination development — building experiences and tourism infrastructure in each of our regions so there are enough amenities and experiences to meet demands of the market.