13 May

Bird Banding, Guided Bird Hikes and Workshops Scheduled this Month at Crown Point Historic Site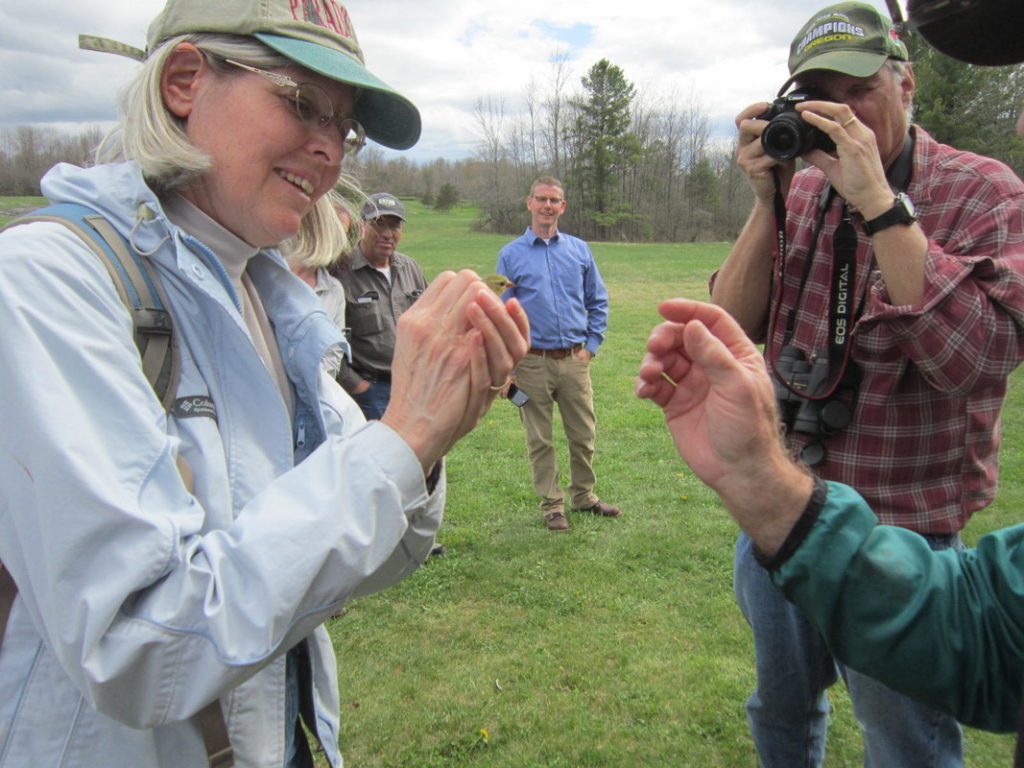 FOR IMMEDIATE RELEASE
May 9, 2019
Carrie Gentile, communications coordinator
Regional Office of Sustainable Tourism
direct: 518.621.3665 or 518.523.2445 ext. 123
Crown Point, N.Y. – The Crown Point Bird Banding Association will set up its yearly bird banding station at the Crown Point State Historic Site May 10 through May 25. In its 44th year, the Crown Point banding station returns to record migration data and birdsongs, and the public is invited to observe.
Bird banding is an effort to identify and track different species of migratory birds that pass through the region every year, so as to better collect ecological data and improve conservation efforts. The public is invited to visit the station during daylight hours, 6 a.m. – 6 p.m daily.
The public can watch the netting and banding process, will learn some basic species identification and may even be allowed to release a bird after data recording, according to Lisa K. Polay, manager of the Crown Point Historic Site.
The Bird Conservation Area is located on the spacious grounds of the Crown Point State Historic Site, at the tip of Crown Point peninsula, just south of the Champlain Bridge to Vermont. Jutting northward into Lake Champlain, the peninsula serves as a migrant trap in spring, concentrating waves of northbound birds in thickets west of the British fort ruin. The State Historic Site is a designated Important Bird Area (IBA) by the National Audubon Society.
As many as 30 different species of colorful warblers are seen at this banding station during May. Stop at the BCA interpretive panels on the left side of the entry road to view a map showing the location of the bird banding station, proceed to the main parking lot, then continue on foot, first west to the barns and then south. Since the station opened in 1976, many thousands of birds – over 100 species – have been banded there.
Guided bird hikes
Geared for all ages, the public is welcome to sign up for two hour guided bird walks scheduled for Saturday, May 11 and Thursday, May 23 at 8 a.m. The walks will end with a visit to the banding station.
The walk is about two miles of flat and muddy terrain. Boots are necessary. Binoculars and field guides are available for loan. Participants will meet at the museum at the site.
The hikes are led by Mark and Stacy Robinson. As a citizen-scientist, Stacy has contributed over 4,400 checklists, or observations, into eBird's database including some 1,000 photos of 300-plus birds species and more than 200 sound recordings. The Cornell Lab of Ornithology and the National Audubon Society launched eBird in 2002. eBird is an online database of bird observations providing scientists, researchers and amateur naturalists real-time data about bird distribution and abundance.
The hikes are limited to 25 participants. Registration is required; email Lisa K. Polay at lisa.polay@parks.ny.gov, or call 518-597-4666.
Put a Bird on It!
Grades 1-3:  May 14 – 16   3-5 p.m.
Grades 4-6:  May 21 – 23  3-5 p.m.    
Sign up for a three day after school workshop where school-age children will visit the banding station. First session will craft a bird mobile and second session participants will build a bird house, based on the species found on site. Supplies provided by site, bring only your imagination and creativity! Pick up and drop off at the pavilion. Along the main entry road across from the comfort station. Registration is required, email Lisa K. Polay at lisa.polay@parks.ny.gov, or call 518-597-4666.
###