05 Oct

AdkAlert.com resource launched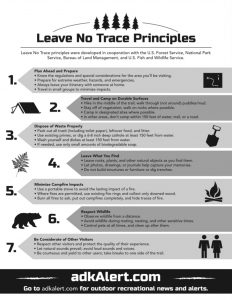 The Regional Office of Sustainable Tourism, the NYS Department of Conservation and the Adirondack Mountain Club have collaborated to launch AdkAlert.com, a "one-stop-shop" with the latest alerts related to outdoor recreation in the Adirondacks, and links to additional resources.
The impetus for the creation of the aggregation website is the increasing traffic on popular hiking trails and congestion at trailheads. The site provides NYSDEC recommended alternate hikes as well as information about hiking etiquette.
AdkAlert.com is intended to be a resource for both residents and travelers to the Adirondacks. Regional businesses and organizations are encouraged to reference and promote the site to their customers and guests. The site includes an option to sign up to receive emails when there are new alerts.