19 Apr

STAFF SPOTLIGHT: KIM ANDRESEN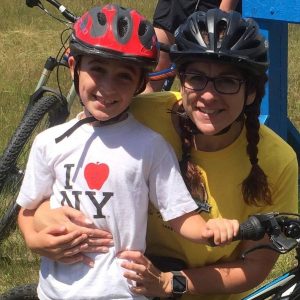 Where are you from?
Brewster, NY is where I grew up, but we spent summers on Old Sweeney Farm Road in Schroon Lake, NY, where my dad was from.
How long have you worked at ROOST?
This week marks three years at ROOST!
Job title?
Dual duties: Senior Content Developer, and Grant Development and Administration.
1-2 sentence description of your job duties:
I work with a great team to develop content for all of our many sites (you would not believe how many sites we have). I coordinate the weekly email that highlights a story in each of our regions, I also blog, wrangle for our freelance writers, and help secure grant money to support our sustainable tourism efforts.
What do you like about working at ROOST?
I think my favorite part of this job is the diversity of both the people and the projects. One day I can be sitting in the office typing away, the next day I'm out doing blog research or a photo/video shoot on the side of a mountain, or on a motorcycle, or in a plane!
What's your favorite book and why?
I'm going old school here. And, I'm breaking the rules and choosing two favorites; I must have read The Outsiders and Little Women dozens of times in my younger years. I can't wait to introduce my son to Pony Boy.
What are your three favorite things to do outside of work?
I love to travel, hike with my family, and although I'm a horrible cook, I actually love to bake.
Tell us about your pets and/or children.
I have a seven-year-old son, Oliver — he's got a crazy amount of energy, a huge heart, and he keeps me on my toes. He's my activity companion and the inspiration for most of my family-friendly blogs. Currently we have two cats, Howard and Whitey, however a dog is currently being campaigned for quite successfully.
What places are on your travel bucket list and why? What are your favorite places that you have traveled to?
I would love to go to Greece and Australia. As for favorite places outside of the Adirondacks, I'd choose Vancouver (the rain forest is awesome), a few small towns in the mountains of Colorado, and basically any ocean shoreline – I love the water.
What's a fact about you that you wish you had more opportunity to talk about?
I have always loved to travel in non-traditional ways.
In my 20s I did a few North American bus-and-truck theatre tours and managed to visit every state in the continental U.S. in under two years.  It was a great experience, however, sleeping/living on a tour bus with 9 other people can make you go a bit stir-crazy. Last summer I did the official Cycle the Erie Canal tour – we biked from Buffalo to Albany (approximately 400 miles) in a week. This summer is all about getting our 1980's-era RV out and about.
What song would you sing at karaoke and why?
That depends – are you trying to clear the bar? If not, don't hand me a mic.