07 Sep

Board Corner: Marc Galvin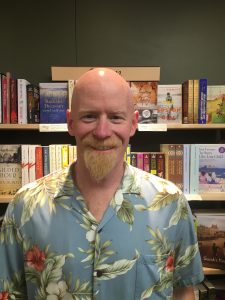 Marc Galvin is a fan of all that ROOST does throughout the North Country, so he was pleased to join the ROOST Board of Directors last year.
Since he began, he and other board members came to the realization that they need to put in time working on the board's various committees, so full board meetings could be for giving reports on what the committees are doing rather than getting bogged down in details.
Marc sits on the board's Finance and Governance committees. In the Finance Committee, he and his fellow members are working on creating a simplified financial statement that will be easier to understand. The Governance Committee is focused on filling in some holes on the board at the moment, as well as making sure the board is in compliance with confidentiality agreements and that they are maintained each year.
As co-owner of the Bookstore Plus on Lake Placid's Main Street and past president of the Lake Placid Business Association, Marc feels like he helps, along with board President Mike Beglin, give the Lake Placid retail community a voice on the board.
Marc grew up in Syracuse, regularly visiting the Adirondacks with his family.
"I always knew this was where I wanted to be," Marc said.
He moved to the area right out of high school and earned a wilderness recreation degree at North Country Community College, then stayed and taught there for a few years.
Marc met his wife Sarah during that time. For a little while, they moved away to work for the Container Store, which is regularly listed as one of the best companies to work for in the country. The couple learned a lot from the company's employee-first policy.
They moved back to the Adirondacks, and decided to take over the bookstore Sarah grew up in. Her parents, Nancy and Chris Beattie, opened the business in 1973, expanding in 1978. And in 2006, they started to transition the business to Sarah and Marc, with the Galvins taking over completely in 2007.
They split the duties of running the store, with Sarah focusing on buying books for kids and young adults, and Marc focusing books for adults.
As the book industry has been changing, they are working on making sure they change with the times, moving some of their business online. They have also focused on holding events to draw people into the store, from book signings, to Skype sessions with authors, to craft and story events for kids.
Main Street is changing too. As the area moves more toward eateries, Marc said he wants to make sure the shopping district maintains a good balance between restaurants and bars, lodging, and shopping places, which will encourage people to continue to come back to Lake Placid and the Adirondacks.